SVC Exhibit Point System and Policies
More Points = Better Booth Location
The SVC Exhibit Point System is designed to provide all exhibiting companies with a preference in selecting booth locations.  Points are accrued for the 2021 Exhibit based upon the table on the right.
Booth assignments are made based upon the number of points a company has at the time of the assignment.
If you completed your booth registration and made payment before July 12, 2020, your booth registration was included in the First Wave of booth assignments on the Exhibit Floor Plan.
Exhibitors signing up on or before September 13, 2020 will be included in the Second Wave of Booth Assignments. Booth assignments will be based upon the total points that a company has at the deadline. 
Booth reservations received after the September 13 deadline will be assigned and reserved on a space-available basis.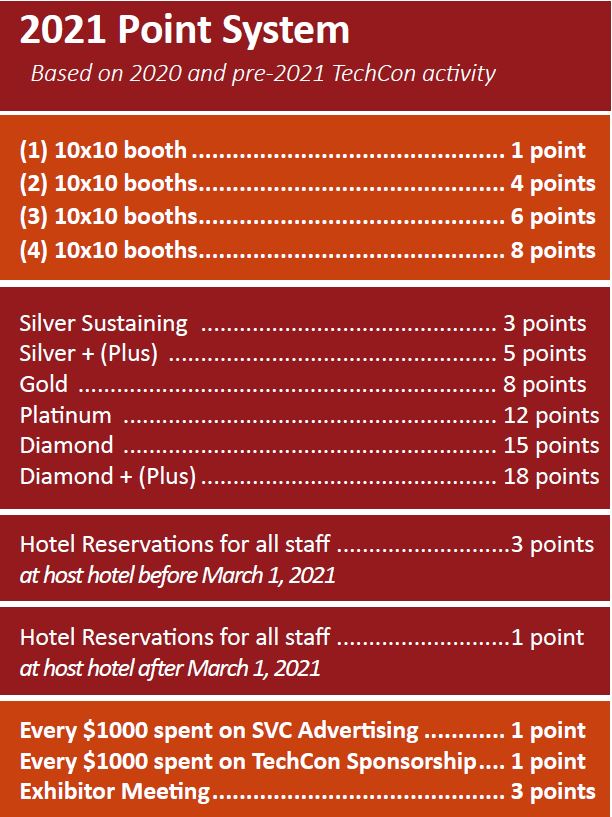 In the event that Company A has "x" points and is purchased by Company B, which has "y" points, then Company B will have either "x" or "y" points, whichever is the greater amount. SVC must be notified in writing of the purchase prior to July 10 of the year before the TechCon.