Long Beach Convention Center
300 East Ocean Boulevard
Long Beach, CA 90802
The 2022 TechCon will be held in the "Center" of Southern California…the Long Beach Convention & Entertainment Center. Located in the heart of Long Beach, the Convention Center is an urban waterfront destination. The building has an impressive architectural design, modern enhancements, and eye-catching décor. The glass dome of the Atrium provides illumination by sunlight in daytime and by colorful LED lights in the evening. The exhibit hall and newly designed meetings rooms are well suited for the TechCon.
Overlooking bustling Rainbow Harbor, Queensway Bay, and Pacific Ocean beachfront, the Center sits in the middle of Long Beach's downtown waterfront, within walking distance to first-class accommodations, shopping, dining, attractions, sightseeing along picturesque bays, and 5½ miles of sandy beach. Long Beach is convenient to Los Angeles International, Long Beach, and Orange County Airports.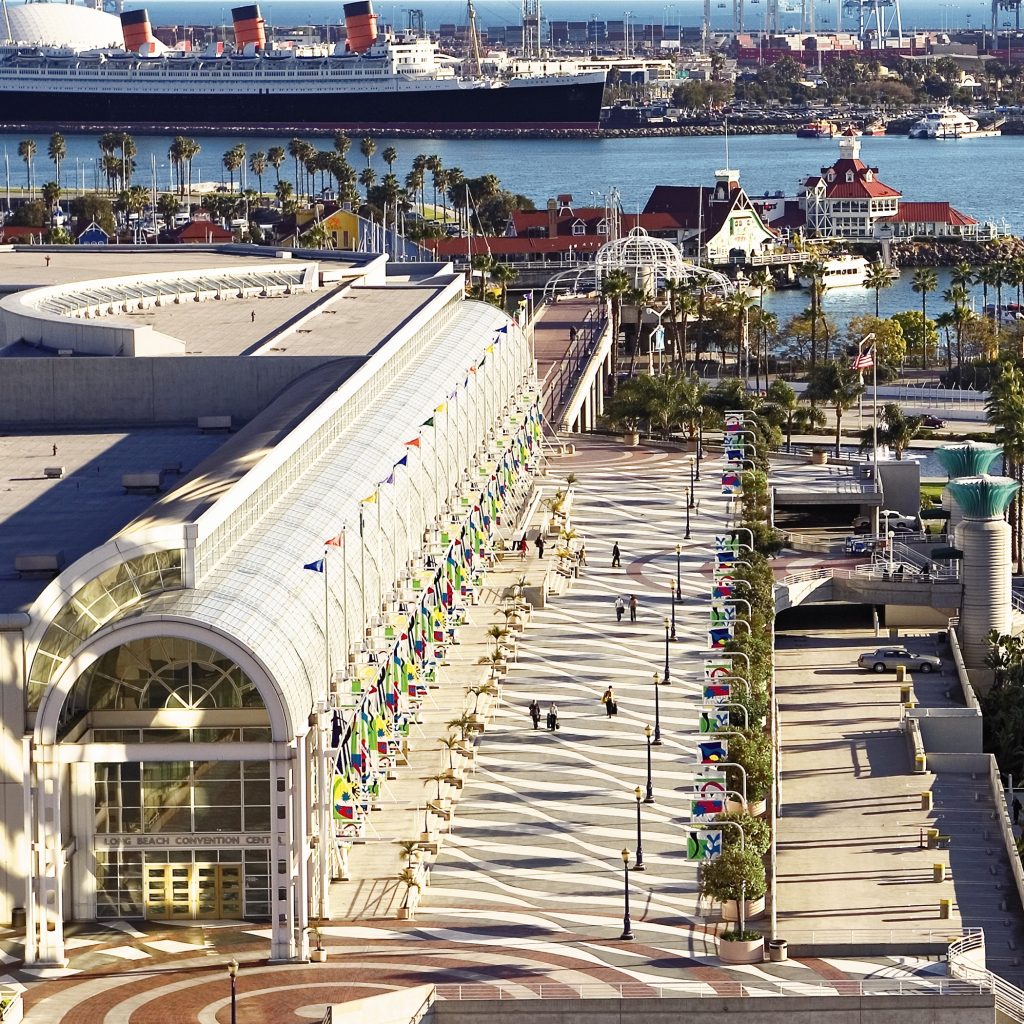 Accommodations for TechCon attendees are available at nearby hotels. Room blocks and rates have been arranged at:
■ $245 – Hyatt Regency Long Beach, 200 S. Pine Avenue, Long Beach, CA 90802, 562-491-1234
■ $235 – Renaissance Long Beach Hotel, 111 E. Ocean Boulevard, Long Beach, CA 90802-4797, 562-437-5900
These special prices are available only with SVC room block.  Reserve your room after registering for the conference. You will be directed to the hotel reservation system after completing your conference registration.
Early Bird Incentive!
Full conference attendees who pay their registration fee and book their hotel stay at the Hyatt or Renaissance by March 1, 2022 will automatically be entered into a drawing to receive a complimentary registration for the 2023 TechCon in Washington, DC!
PLEASE NOTE: The SVC has negotiated directly with the Hyatt Long Beach Hotel and Renaissance Long Beach Hotel special conference room rates and space.  In order to secure these rooms at the conference rate you will need to book your room directly through the links that will be posted only on the SVC TechCon website and our SVC registration portal that will open on December 15.  The SVC has not authorized any third party to sell rooms on our behalf.  If you are contacted by anyone representing themselves as an agent of the SVC to assist you in securing hotel rooms please be advised that you are the likely target of a scam.