Attend the Technical Program for free on May 4 or 5.
See what the SVC TechCon is all about!
Register as a "Visitor to the Exhibits" and select the option "Exhibit Visitor + Complimentary Conference" for either Tuesday, May 4 or Wednesday, May 5. You'll receive complete access to the parallel SVC Technical Program on one of the two days that the Exhibit is open. While admission to both days of the Exhibition is always free, access to the Technical program will be limited to one day for each of our exhibit guests. No two-day technical passes will be issued.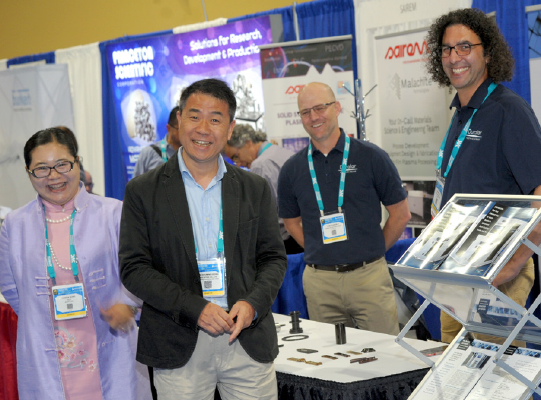 What's Included?
Entrance to the two-day Technology Exhibit
Access to all Exhibit Hall activities including: Poster Session, Desserts, Beer Blast and more
Entry to the Exhibit Raffle for a chance to win an iPad
Choose one day of the Technical Program:
TUESDAY TECHNICAL PROGRAM
Technology Forum Breakfasts
Keynote Presentation: Vacuum Deposition of Electro-active Coatings for Thin-Film Neural Interfaces, Stuart F. Cogan
Coatings and Processes for Biomedical Applications Session
Symposium: Communication 2030
High-Powered Electron Beam Technology Session
Large Area Coatings Session
High Power Impulse Magnetron Sputtering (HIPIMS) Session
Vendor Innovators Showcase
WEDNESDAY TECHNICAL PROGRAM
Keynote Presentation: Additive Manufacturing (AM): Towards Realizing AM's Full Potential, William E. Frazier
Optical Coating Session
Symposium: Thin Film Solutions for a Sustainable Future
High Power Impulse Magnetron Sputtering (HIPIMS) Session
Protective, Tribological and Decorative Coatings Session
HEURÉKA! Recent Developments Session
Additive Manufacturing Session and Panel Discussion
Vendor Innovators Showcase
Technical Program details will be available in the 2021 Preliminary Program in mid-December 2020.